Looking for the best Vietnamese Restaurants in Paris? Fear not, Paris Eater's guide has the very best spots in the city of light. I love Vietnamese food and and luckily, Paris has plenty of amazing Vietnamese restaurants serving up amazing Phởs, Bahn-mis and Bo Buns.
Due to French colonialism in the far East in the 1800s, the food of Vietnam is heavily influenced by the French. When you dive in, the effect of the French colonists on Vietnamese cuisine is staggering. The most emblematic dish of Vietnam – Phở – was influenced by the French stew 'Pot au Feu'. It doesn't stop there, Bahn-Mi traditionally contains Pâté – a very French type of charcuterie. There's also the bread that is the foundation of the sandwich – again, a very French influence.
Consequently this long, historical connection led to a strong Vietnamese community in France and indeed Paris. Nowadays the majority of Vietnamese markets and restaurants can be found in the capital's 13th arrondissement. Read on to discover our favourite spots to eat amazing Vietnamese food in Paris.
Our Favourite Vietnamese Dining Spots in Paris
Due to the history between the two countries, Vietnamese food is very popular in France. In Paris, you'll easily find Vietnamese specialties in pan-Asian restaurants and take-outs. Unsurprisingly, it's easy to stumble upon not-so-great Vietnamese food which is always disappointing! Our guide has our favourite, tried and tested Vietnamese restaurants for you to discover.
Pho Tai
Probably my favourite Vietnamese restaurant in Paris – Pho Tai is an institution amongst foodies here. Started by Chef Te when he arrived in France from Vietnam in 1968, his restaurant has become extremely popular and for good reason. They currently have a Michelin Bib award which they've retained for the past 6 years. The restaurant inside is on the smaller side and there can be queues – so prepare to wait! During the Summer months they have a covered terrace for extra seating.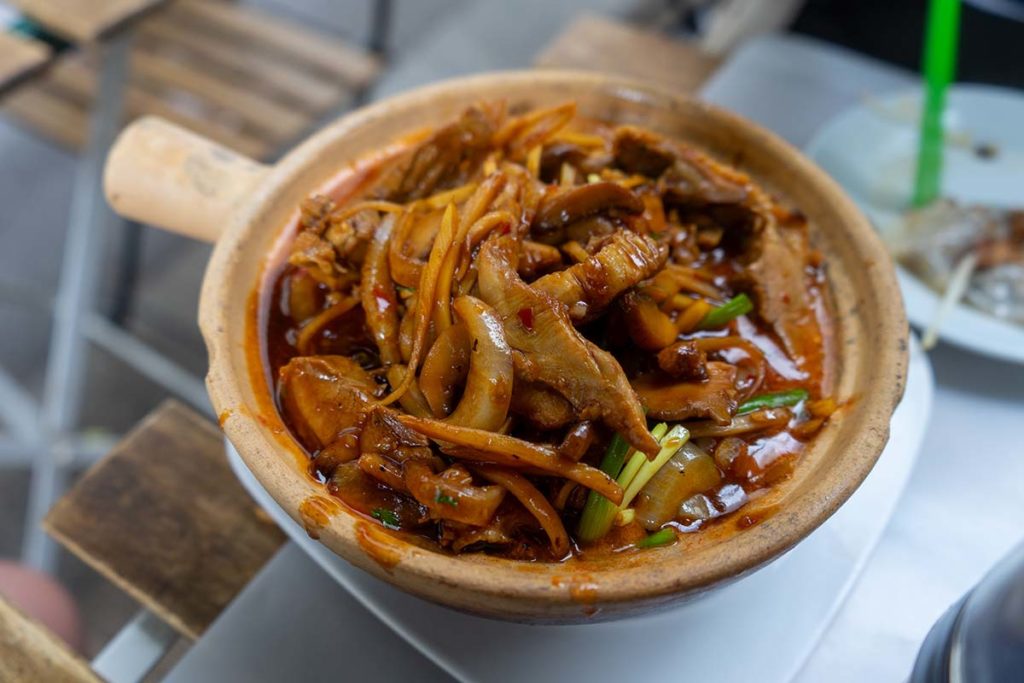 The food is homely and generous yet refined and extremely satisfying. Chef Te and his brigade certainly show off technical skill and their broths and sauces are very, very good. Their spring rolls and crispy nems are of course are home-made, and it shows. Their dumplings aren't just the run of the mill kind that you'll find anywhere in Paris – order Báhn Cuon, trust me. They're delicious flat dumplings stuffed with black mushrooms and pork. Onto the mains, their Pho is extremely good with a deep flavoured, smokey, aromatic broth. The noodles are well cooked and served with thin slices of rare beef ontop. I'd also recommend you try their delicious sweet and sour duck with noodles and their incredible lemongrass fried chicken.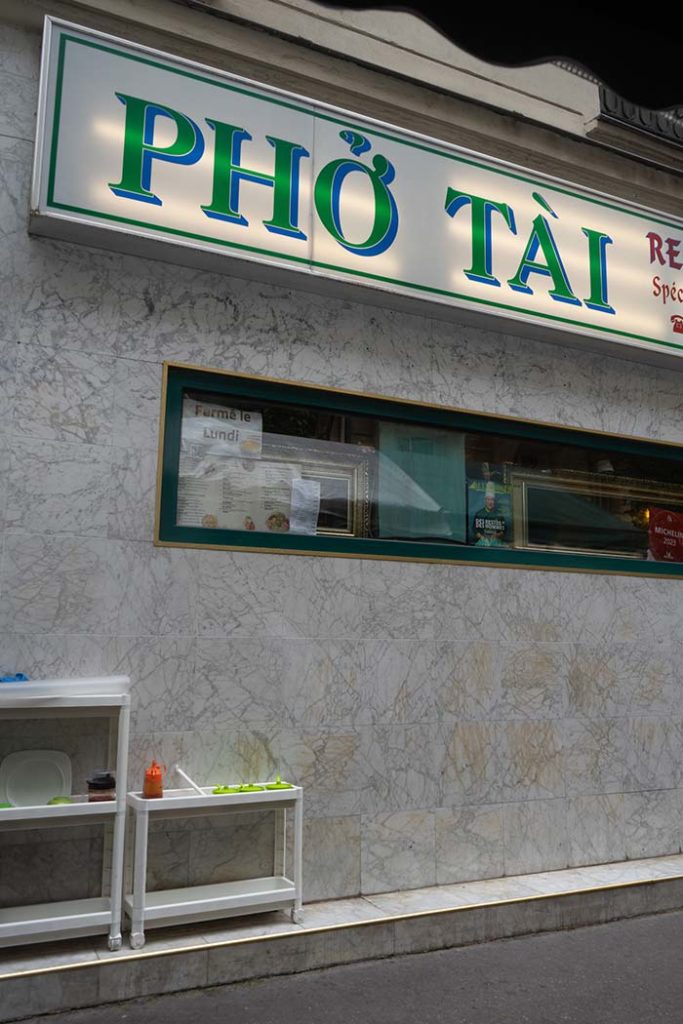 What to know before visiting
Closed on Mondays
You will need to queue during peak hours on weekends
Out of the way but certainly worth the trip!
Address: 13 Rue Philibert Lucot, 75013
Tel: 01 45 85 97 36
Website: https://www.facebook.com/photaiparis/
Entre 2 Rives
Enter 2 Rives is located very centrally in the city's 2nd arrondissement, near the Sentier metro station. It's unassuming, rather traditional French bistro facade makes way for a moody, minimalistic dining area. The service is rapid and friendly and makes for a great lunch spot if you're in the area.
On the menu are the usual Vietnamese classics; spring rolls, Pho, Bo Bun and an assortment of delicious steamed dumplings (Ha Kao). I'd very much recommend trying their steamed prawn dumplings – the wrapper is tender and the filling is generous with a rich prawn flavour. Their dumplings and nems come with a welcome soy based dipping sauce and an excellent home made chilli sauce. Other entrées include some more modern dishes including bao wrappers – soft, fluffy bao buns are steamed and filled with either lemongrass pork or chicken. Their bo-buns are generous and full of flavour and come with the obligatory home made, crispy spring rolls. Finally their Pho Is worth a mention – a very solid broth is finished with fresh rice noodles and seasoned with fish sauce and fresh herbs.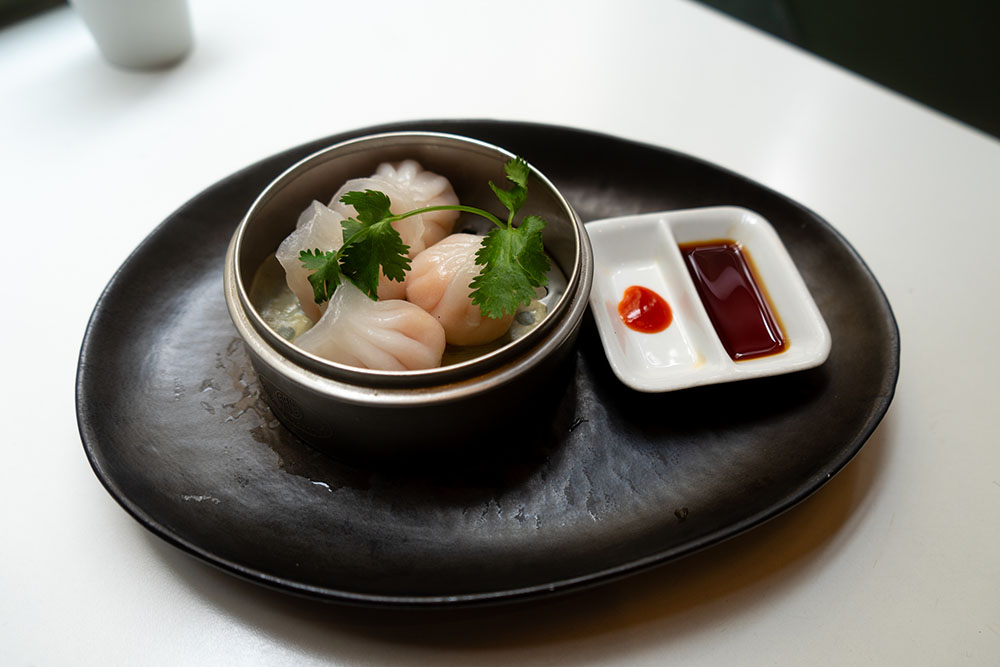 What to know before visiting
Address: 1 Rue de Hanovre, 75002
Tel: 01 42 66 15 11
Website: https://www.instagram.com/entre2rives/
Song Heng
Song Heng is a very small restaurant located near the Arts et Metiers metro station in central Paris. Specialising in Pho and Bo Bun, their intimate restaurant is located in one of oldest buildings in the city. The dining space is simple and functional but don't be fooled it's bland minimalism – the food is seriously good. Note that the restaurant is really small so you may be on the same table with other diners – it's all part of the charm!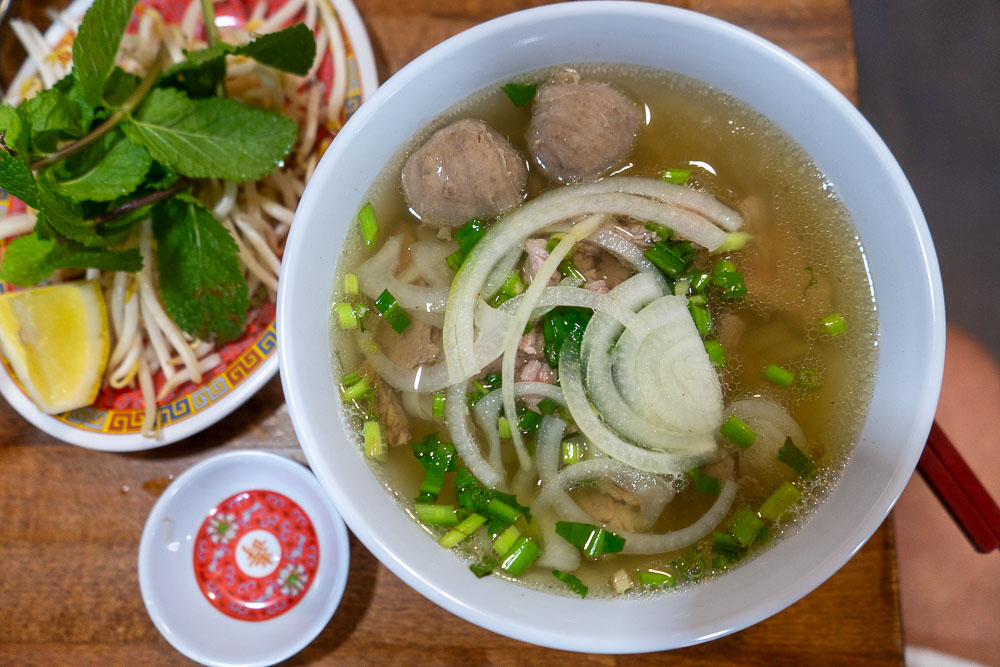 On the menu are nems (crispy spring rolls), Pho and Bo Bun – that's it. The nems are home made and served fresh out of the fryer and come with finely chopped Birdseye chillis (be careful as they are hot). The pho is very good and is served with thin slices of braised beef and beef meatballs. The broth is rich in flavour and has the satisfying aromatic, smokey notes. The Pho comes with mint, lime & bean sprouts for you to customise your soup. There's also Sriracha, hoisin sauce, house chilli paste, sesame oil, salt and soy sauce for extra seasoning. Be warned though, it's a no frills quick service lunch restaurant so don't expect a long, comfortable sit down meal experience here.
What to know before visiting
Closed on Sundays
Open only from 11:30am to 4pm
Address: 3 Rue Volta, 75003
Tel: 01 42 78 31 70
Website: https://www.facebook.com/pages/Song-Heng/156614561034185/
Dong Huong
Located in the Belleville quartier, Dong Huong has been serving Vietnamese cuisine to locals for over 25 years. The large, airy, dining space is comfortable and unpretentious. The service is rapid and friendly and the smells coming from the kitchen are very inviting.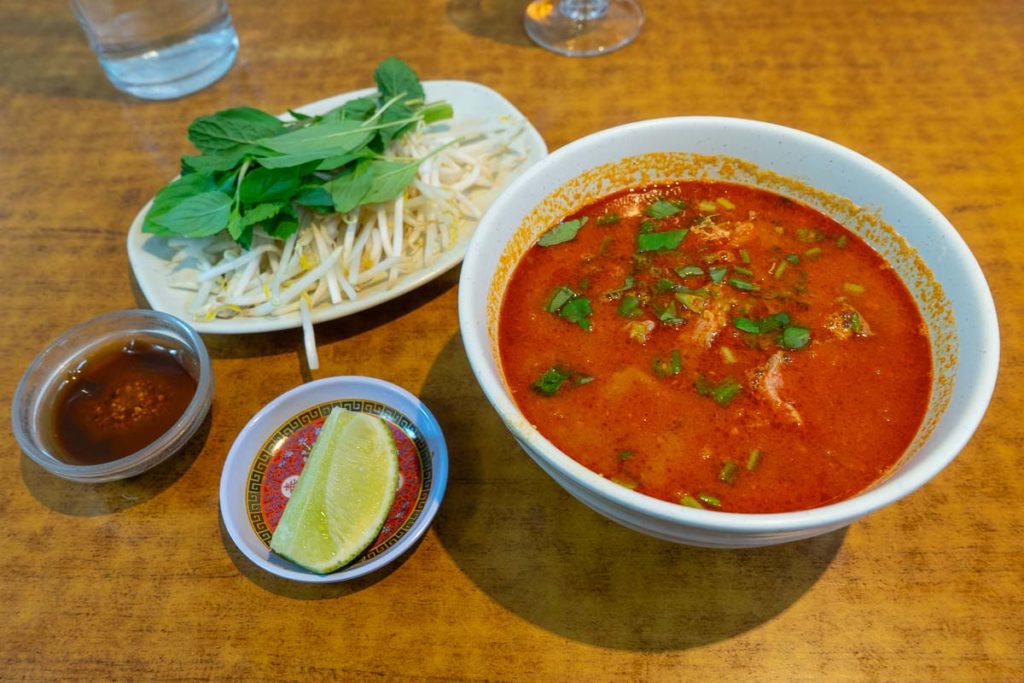 Their menu is large and very diverse. It's not just Pho and Nems here – there's various different grilled meat dishes including an awesome lemongrass chicken with a superb grilled flavour. Their soups are the start of the show here. They're generous and come with extra chillies, lime, seasoned sauce, herbs and bamboo shoot for you add as you wish. Unlike many Vietnamese restaurants in Paris, their menu takes you to the North of the country serving Hainan chicken rice and Northern Vietnamese crab noodle soup.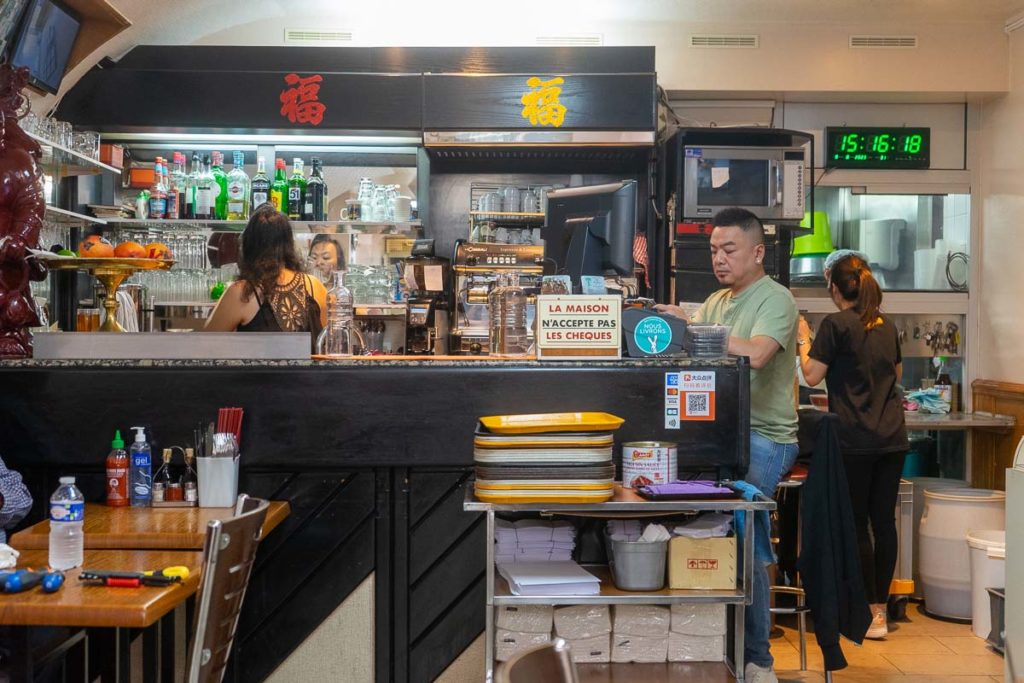 What to know before visiting
Closed on Tuesdays
Open only from midday to 10:30pm
Address: 14 Rue Louis Bonnet, 75011
Tel: 01 43 57 42 81
Website: https://pho-donghuong.fr/en
Banoi
Banoi is a modern Vietnamese restaurant situated on the trendy rue Amelot in the 11th arrondissement. The snug, intimate restaurant is open and airy in the daytime and moody and romantic in the evening. The food reflects the contemporary decoration with a limited yet delicious menu.
On offer are a small selection of starters, Vietnamese tapas and fresh, uncooked spring rolls. The starters include a Tom Yum soup and fried rice with tofu. The tapas is limited and really meant to be a snack with a drink in the evening but I must say that their Bahn-Mi slices are delicious. The spring roll menu is where you'll have the most options. The rolls are fresh, well prepared and perfect for those wanting to avoid deep fried nems. Despite the small size, it's
What to know before visiting
The restaurant is very small – there are limited tables
Closed Sundays and Monday evenings
Address: 129 Rue Amelot, 75011
Tel: 01 71 93 48 75
Website: https://banoi.fr/